HELP! Someone stole my house!
After retiring from law enforcement, I became a private investigator and physical security consultant here in my hometown of Portland, Oregon. I get calls all the time from people who want me to do background checks, conduct surveillance for some reason, find missing persons, and investigate all kind of thefts. I also get my share of "mentals" who think the CIA, FBI, or local police have implanted listening devices in their head or some similar craziness. So, you can imagine what I was thinking when I answered the phone and the caller said he wanted to hire me to find out who stole his house!
My mind conjured up all kind of scenarios: Did someone dismantle this man's house and haul it away in pieces? Did someone use house moving equipment and a super-sized flatbed trailer and move his house away? Did squatters move into his house and now won't leave? Or, maybe this was someone who would tell me a long-convoluted story about the government "stealing" his home in some civil forfeiture seizure.
I politely listened to his story and concluded what this caller was explaining was a case of Title Theft. Title Theft? Title theft is a combination of identity theft and mortgage fraud and is becoming a growing concern in the United States and Canada.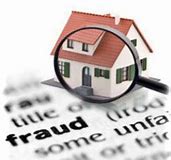 According to the FBI, title theft occurs when: "The con artists start by picking out a house to steal—say, YOURS.  Next, they assume your identity—getting a hold of your name and personal information (easy enough to do off the Internet) and using that to create fake IDs, social security cards, etc.  Then, they go to an office supply store and purchase forms that transfer property.  After forging your signature and using the fake IDs, they file these deeds with the proper authorities, and lo and behold, your house is now THEIRS."
The FBI recently put out an alert that explained some of the variations of the Title Theft scheme:
"Con artists look for a vacant house—say, a vacation home or rental property—and do a little research to find out who owns it. Then, they steal the owner's identity, go through the same process of transferring the deed, put the empty house on the market, and pocket the profits.
Or, the fraudsters steal a house a family is still living in…find a buyer (someone, say, who is satisfied with a few online and sell the house without the family even knowing. In fact, the rightful owners continue right on paying the mortgage for a house they no longer own."
According to the First Canadian Title company the three most common variations of this scheme in Canada (and likely the same in the USA) are:
Title fraud — when the ownership or title of a property is fraudulently changed or documents are forged to allow a fraudster to illegally sell or refinance the property.
Mortgage fraud — a scheme used to obtain a mortgage from a lender under false pretenses, also known as application fraud.
Value fraud — where a lender is led to believe a property is worth more than it really is through concealment or intentional misrepresentation of the property's attributes and value.
Of course, since the new deed filed with authorities (in the USA usually filed with the county where the property is located) is fraudulent, the property does not really belong to the fraudster. But someone just looking at the deed on file and the property recording history might logically conclude that the fraudster is the current owner of the property because everything on the property record looks legitimate. A mortgage lender has no way of knowing that the recorded property record is fraudulent.
What can you do to protect yourself from Title Theft?
The Fidelity National Title Company reported that "mortgage fraud is committed on an estimated 10 percent of all residential loan applications" and "losses as a result of mortgage fraud now exceed ONE BILLION dollars annually" but there are some simple steps you can take to prevent and detect Title Theft.
* First, understand how variations of this scheme work.  Besides reading this article do some research and further familiarize yourself with different variations of this fraud.
* When was the last time you looked at the recording history of your property? In the USA these are public records usually filed with counties where the property is located. Many counties allow you to look-up your property records online. Take a look at the deed and recording history of all property you own at least once every year. If something looks amiss, notify police immediately.
* Check your credit report once a year. If you notice any inquiries from mortgage companies you don't recognize these could be "red-flags" of fraud.
* Title fraud is only possible if someone steals your identity. Practice good personal and financial identification
habits. Consider receiving all bank and credit card statements electronically and use strong passwords to secure your online accounts. Make sure you have a secure mailbox to receive paper financial documents and dispose of all personal and financial documents with a quality cross-cut paper shredder.
USA.gov is the official website of the United States government and you can find more good information on how to prevent, detect, and respond to identify theft by visiting their website. For Canadian readers, a comparable website is published by the Royal Canadian Mounted Police.