TIMBER THEFT: A Growing Problem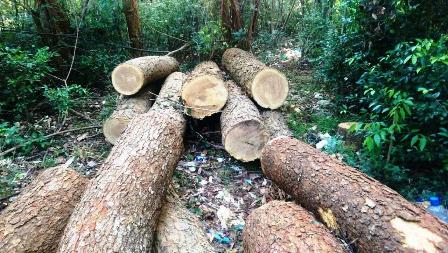 After I retired from law enforcement I became a private investigator in Portland, Oregon. I had investigated many crimes over the years and even worked as an Internal Affairs investigator and over the years developed a great deal of expertise in investigations, so investigating things in the private sector seemed like a natural transition. One of the first cases I had as a private investigator involved the investigation of stolen trees. These were not just any trees. These were large mature Douglas Fir trees worth thousands of dollars each.
Although Portland is a large metropolitan area of about 2.4 million people, there are vast areas of the state that are rural and heavily forested. The landmass of the State of Oregon covers 63 million acres and about 48 percent of the state's total landmass is covered by forest. About 35% of all this forest land is in private ownership. Some of it is high desert country in the central and eastern parts of the state where forests are scattered, but large areas are heavily forested. Each year more than 4-BILLION board feet of timber is harvested from Oregon private and public forest lands.
Timber theft is not just big problem in heavily forested states like Oregon. The US Forest Service estimates that more than 10 percent of all trees cut in national forests are stolen and that the annual value is more than $100 million. Other states across the USA report yearly losses in the tens of millions due to timber theft.
The facts of the case:
A private land owner on the Oregon coast owned numerous plots of forested property. Most of these acres were way out in the boonies and only accessible via unimproved gravel or dirt roads. This property owner was selectively harvesting some of these plots and leaving others to just grow naturally so they could be harvested in future years. Even the plots that were selectively harvested were only visited once or twice a year at the most.
About a year before the owner contacted me he received reports from his contract logging crew that when then arrived at one plot, they noticed that several trees were already cut down and removed. The owner didn't really know what to think of this. Obviously, someone had trespassed upon his land but trespassers (hunters, hikers, backpackers, etc.) were known to occasionally traverse his land and the plots were so large that it was impracticable to fence them. But hunters and outdoor enthusiasts might cut down a few saplings for a campfire or a temporary makeshift shelter, but they were not falling mature trees and hauling them off. Even people looking for firewood would not take the time and effort (let alone have the expertise) to fell and haul off a large 200' Douglas Fir tree.
Over the next year, the land owner continued to discover a few trees here and there cut and removed without his knowledge or consent. Soon, this started to add up to a very substantial money loss. Local law enforcement took reports on the stolen timber but there were no obvious clues as to who was responsible so the identification of the tree thieves went nowhere. That is when I got the call.
I had to be honest and let the owner know that I had never investigated a timber theft before and other than vacationing on the Oregon coast during the summer, I was a "city guy" who knew nothing about what it took to cut down a 100 to 250' fir tree and haul it away. The owner said he didn't care. He told me that if I was skilled enough to have investigated serious crimes as a police investigator, he felt I was up to the task and wanted to hire me. Since this was at the beginning of my private investigator career and because I thought this would be a very interesting case, I quickly told the owner: I'm on the case!
The investigation:
My investigation started with a lot of self-education on timber harvesting and marketing operations. I had to learn about how timber in the area was logged, transported, stored, and typically sold. I learned about "drop lots," how timber was typically moved or skidded to the edge of the forest (also called a landing), how timber was sawed or bucked into logs, and a whole lot more.
The investigation took on many twists and turns. It involved interviewing adjoining property owners, loggers, mill operators and mill workers, along with covert and overt surveillance. I spent many hours "hiding" in the woods during the day and night! At one point I even tried using a drone to take a look at a pile of logs stacked on a rural private lot.
My investigation spanned more than a year. I worked the case until leads dried up. Then I reassessed what I had learned and tried pursuing a different investigative strategy. I offered rewards for information. I tried to befriend locals in neighborhood watering holes. I posed as a 'independent' timber buyer. I placed ads on local bulletin boards and craigslist offering to buy logs. And, I was even able to recruit a few local informants. In time, I became convinced that these informants were just "playing me" for the money that I was paying them and either had no credible information or were intentionally feeding me "disinformation."
I developed some "persons of interest" but was never able to gather enough firm evidence to identify a definite suspect. I concluded that this theft was not the work of an established logging company intentionally exceeding their cutting permits and "accidentally" harvesting some extra trees. Instead, this theft was likely the product of a few 'gypsy' loggers who took advantage of a "culture of theft" and a lack of any serious law enforcement investigation, where buyers of logs often ask no questions as long as they are getting a good deal.
Failure . . .
Finally, I concluded that I had done everything that I could. In my mind, I had failed. When I told my client that I had exhausted all leads and had run out of viable investigative strategies, I expected the client to be disappointed. After all, he had hired me to find the thieves and I had failed.
To my surprise the client was not disappointed. He appreciated the efforts I put into this case and appreciated that I kept him informed of investigative efforts along the way. And, as he pointed out, there had been no more timber thefts since I started investigating. He attributed this to the word "getting out" that there was an investigator making inquiries and scaring the thieves, and those who had to be aiding and abetting the thieves, from ceasing their thievery. This in itself, saved the client many thousands of dollars in potential losses.
CONCLUSION
Timber theft all across the United States is a growing problem. In some parts of the country law enforcement does not have the resources, the expertise, or the inclination to aggressively investigate it. Often, even if suspects are identified, prosecutors decline to criminally prosecute the culprits advising the victim to instead initiate a civil suit against the thieves. With 'gypsy' timber thieves this seldom occurs because often the thieves have little or no attachable assets so going through the time and expense of obtaining a judgment is not worth the effort and cost.
Sometimes just having a private investigator snooping around is enough to drive the thieves deep underground and prevent the thefts from continuing.